Restaurants & Bars
Give up to temptation by enjoying the cuisine Catalonia Yucatan Beach offers. Catalonia Yucatan Beach themed restaurants will take you where you won't imagine. Feel the joy to almost be in other country tasting the magnificent flavors, cultures, and plates of our specialty restaurants. The best drinks, cocktails, and natural fruit juices are waiting for you in our bars. Live some magic vacations by not worrying about anything, we'll take care of everything. We take care of the service and your comfort for your vacations to be unforgettable.
Restaurants Buffet & Snacks
Our best cuisine choices will make you succumb to our great plates, fresh drinks and the best snacks.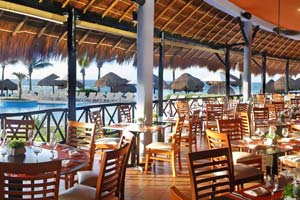 La Brisa
With various themed meals to choose from an International gastronomy Restaurant -Buffet. Located outdoors. Serving breakfast, lunch and dinner.
El Mercado
Buffet of International gastronomy with themed food. With air conditioned. Open for breakfast, lunch and dinner.
Bamboleo
Located by the pool, enjoy this Snack Bar. Serving during the day. Located outdoors.
Creperie
Sweet and salty Crepes to share. Service at evening and night. Located outdoors.
A la Carte Restaurants
No reservation is needed for these A la Carte themed restaurants (subject to availability).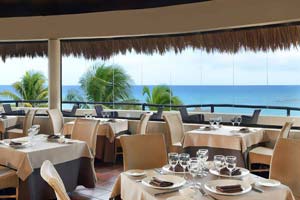 BELLAVISTA
The Italian A la Carte Restaurant with great specialties. Air-conditioned, serving dinner.
LOS ALEBRIJES
The Mexican specialties are available in this A la Carte Restaurant. Air-conditioned. Service for dinner. 
BAMBOLEO
The A la Carte Restaurant with the greatest steaks. Service for dinner. Located in outdoors. 
Ayami
Featuring the best Asian specialties, serving teppanyaki and sushi. Air-conditioned and dinner service only.
TERRACE TAPAS BAR
Enjoy our awesome tapas and lobster specialties in this A la Carte Restaurant. Brand new and beautifully decorated. Serving breakfast a la Carte and dinner.
BLOVED LOUNGE
A la carte restaurant with a beautiful view. Enjoy the best organic food. Serving breakfast, lunch and dinner. Exclusive for Privileged guests.
Bars
Enjoy a break from the hot having your favorite cocktails and drinks in any of our bars (Eight to choose from)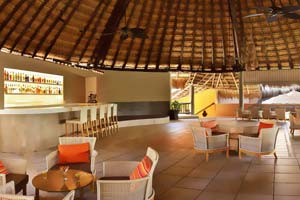 EL ABUELO
This is the Lobby bar where you can spend your evenings and after suns with the right beverages. 
Margaritas
Inside the pool, so you can enjoy your drink while still in the water.
LA TERRAZA
If you want to enjoy the view, watch the beautiful Caribbean panorama with your favorite cocktail on hand.
LA PIÑATA DISCO
Every night, look for your favorite drink while happily dancing.
TEQUILA BAR
If the sun is making you sweat, don't doubt to take a drink from this Pool Bar while jumping into the water.
PURE CHILL OUT BAR
Nice and fancy get together in this beach situated Bar. Offering the best cocktails and beverages exclusive to our Privileged guests.
SPORTS BAR
Featuring TVs and a large lists of games to enjoy.
BAR MA LOO
Enjoy the best natural juices from 100% natural tropical and local fruits. 
BEACH BAR
Located on the beach, ideal for cooling off with the best drinks while enjoying the sun.